When it comes to skincare, we all want to achieve that healthy, glowing complexion. However, with so many products and conflicting advice out there, it's easy to make mistakes that can harm our skin. In this article, we'll explore the dos and don'ts of skincare to help you navigate the common pitfalls and achieve the best results for your skin.
1. Do Establish a Consistent Skincare Routine: Having a consistent skincare routine is essential for maintaining healthy skin. Cleanse, tone, moisturize, and protect your skin with sunscreen every day. Consistency will allow your skin to adapt and improve over time.
2. Do Identify Your Skin Type:Understanding your skin type is crucial for selecting the right skincare products. Whether you have oily, dry, combination, or sensitive skin, tailor your routine to address your specific needs. This will help you avoid using products that may aggravate your skin.
3. Do Patch Test New Products: Before incorporating new skincare products into your routine, it's important to patch test them first. Apply a small amount of the product on a small area of your skin and observe for any adverse reactions. This will help you avoid potential allergies or irritations.
4. Do Protect Your Skin from the Sun:One of the biggest skincare mistakes is neglecting sun protection. Always apply a broad-spectrum sunscreen with an SPF of 30 or higher, even on cloudy days. Sun damage can lead to premature aging, sunburns, and an increased risk of skin cancer.
5. Do Stay Hydrated:Drinking an adequate amount of water is not only essential for your overall health but also for your skin. Proper hydration helps maintain skin elasticity and plumpness, resulting in a more youthful appearance. Aim to drink at least 8 glasses of water per day.
1. Don't Overcleanse or Overexfoliate: While it's important to keep your skin clean, overdoing it can do more harm than good. Avoid overcleansing or using harsh exfoliators as they can strip away the natural oils and disrupt your skin's moisture balance. Stick to gentle cleansers and exfoliate no more than twice a week.
2. Don't Touch Your Face Frequently: Our hands come into contact with numerous surfaces throughout the day, harboring bacteria and dirt. Touching your face frequently can transfer these impurities, leading to breakouts and infections. Make a conscious effort to keep your hands away from your face.
3. Don't Sleep with Makeup On: Sleeping with makeup on can clog your pores and prevent your skin from breathing and regenerating properly. Always remove your makeup before going to bed to allow your skin to rejuvenate overnight.
4. Don't Neglect a Balanced Diet: What you put into your body reflects on your skin. A diet high in processed foods and sugar can contribute to inflammation and breakouts. Opt for a balanced diet with plenty of fruits, vegetables, lean proteins, and healthy fats to nourish your skin from within
By following these dos and don'ts of skincare, you can avoid common pitfalls and maintain healthy, radiant skin. Remember to establish a consistent skincare routine, protect your skin from the sun, identify your skin type, and avoid harmful habits like smoking and overcleansing. Your skin will thank you by looking and feeling its best.
Here are 10 best recommended products for your healthy skin
1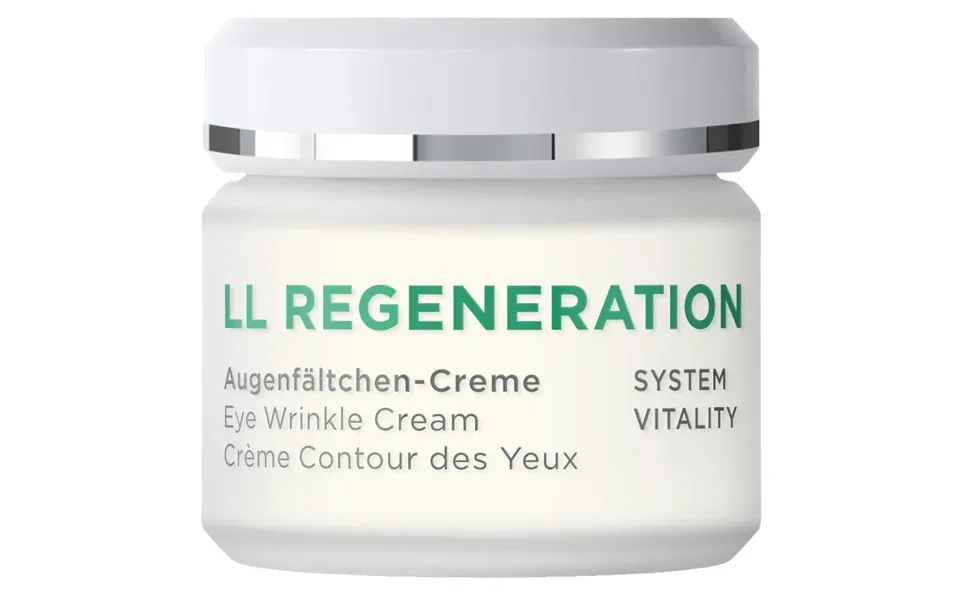 Annemarie barrel - ll regeneration wrinkle cream 30 ml
Kr. 299,00
Annemarie barrel – ll regeneration wrinkle cream protects and smooths the eye area with high-quality plant-based oils. Plant-based and natural ingredients revitalize for visibly firmer looking skin. The LL Biocomplex with its plant and patented mode of action keeps skin looking smooth, dewy, and radiant. Eyebright alleviates puffiness.Efficacy and skin-compatibility scientifically confirmed. Free of mineral oil derivatives. Vegetarian.
2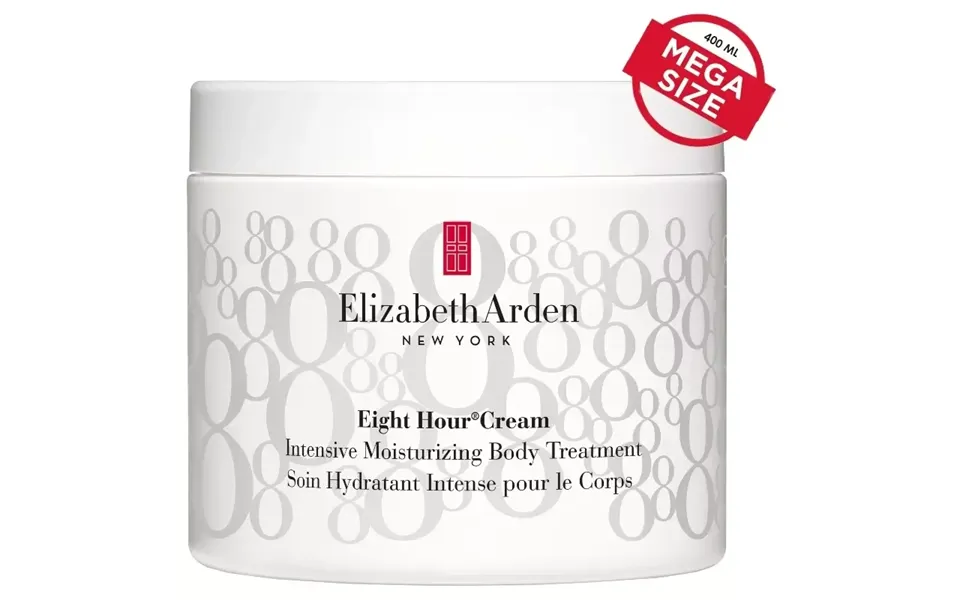 Elizabeth arden eight hour intensive moisturizing piece treatment 400 ml
Kr. 219,00
Elizabeth arden eight hour intensive moisturizing piece treatment This moisturizing treatment saturates your skin with the hydration it craves to reverse dryness and flaking.Helps to reverse skin dryness and flaking.,Saturates deeply and moisturizes intensely.,Leaves skin luxuriously soft and smooth for eight beautiful hours.,Revives dryness-prone areas such as elbows, knees and heels.,Is clinically, dermatologist and allergy-tested.
3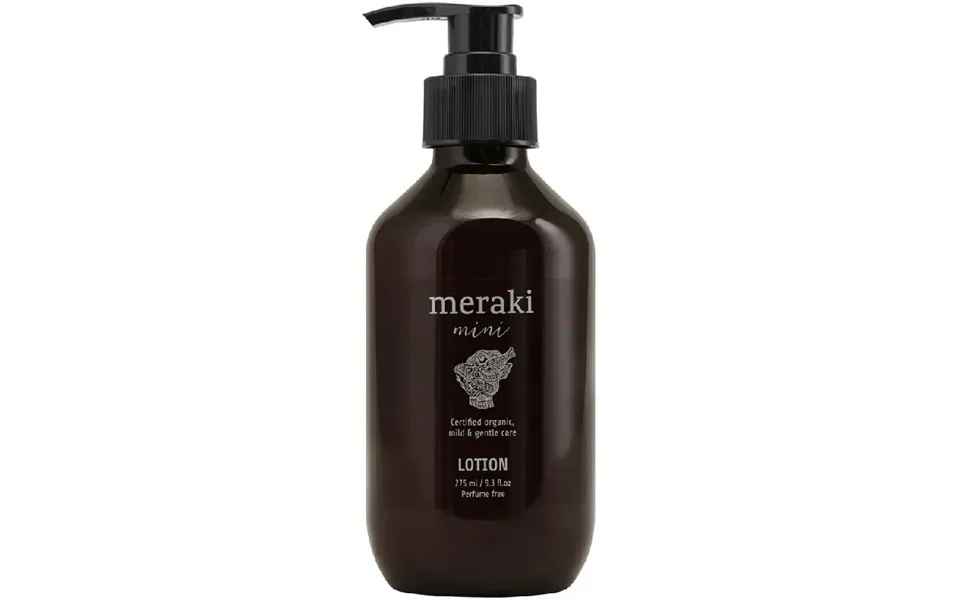 Meraki mini lotion 275 ml
Kr. 69,00
Meraki mini lotion a gentle, perfume-free and certified organic lotion from Meraki that moisturises, softens and nourishes your baby skin. To prevent the skin from drying out, the pure lotion is formulated with a range of nourishing and organic ingredients: Aloe vera, shea butter, almond oil and jojoba oil. Glycerine maintains moisture while a moisturising active makes the skin soft, strengthens the barrier and maintains moisture for up to 24 hours.Apply a thin layer on clean and dry skin. The lotion is quickly absorbed. Suitable for daily use.
4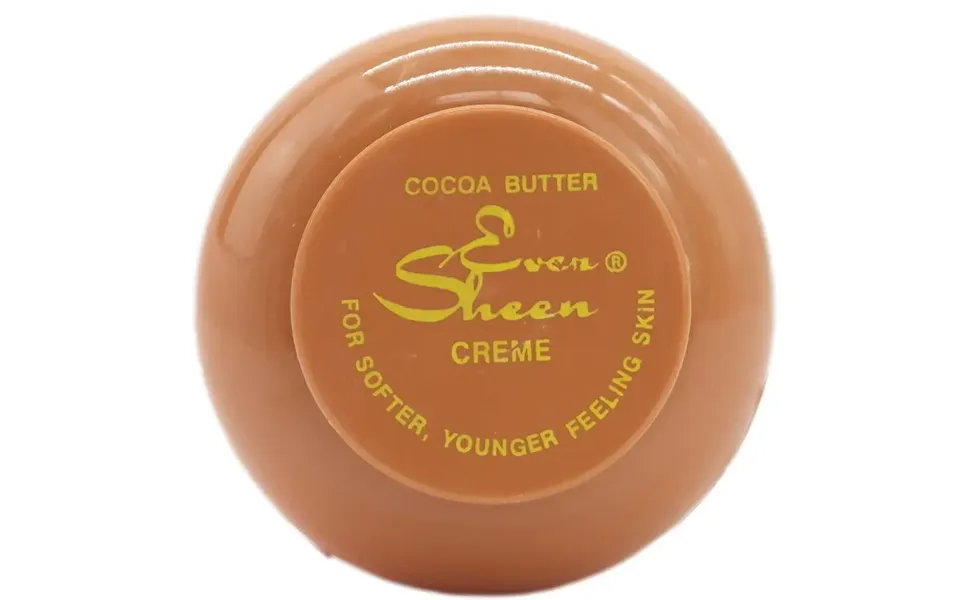 Even sheen cocoa butter 250 ml
Kr. 79,00
Even sheen cocoa butter cream cocoa butter is so beneficial in many ways. With Ever sheen cocoa butter, you have all that you look for in a body cream. It is a perfect skin moisturizer that does more than just hydrate the skin. It actually goes further to heal it from inside out too. Ever sheen cocoa butter is also good for chapped lips and perfectly deals with the effects of sun damage or extremely cold temperatures. Worried about aging? Well with ever sheen cocoa butter, you have nothing to worry about. It diminishes all signs of aging and helps you look young and radiant all the time. For men, it is also good for use as shaving cream and for treating burns and other infections. As you can see, the benefits of ever sheen cocoa butter are endless.
5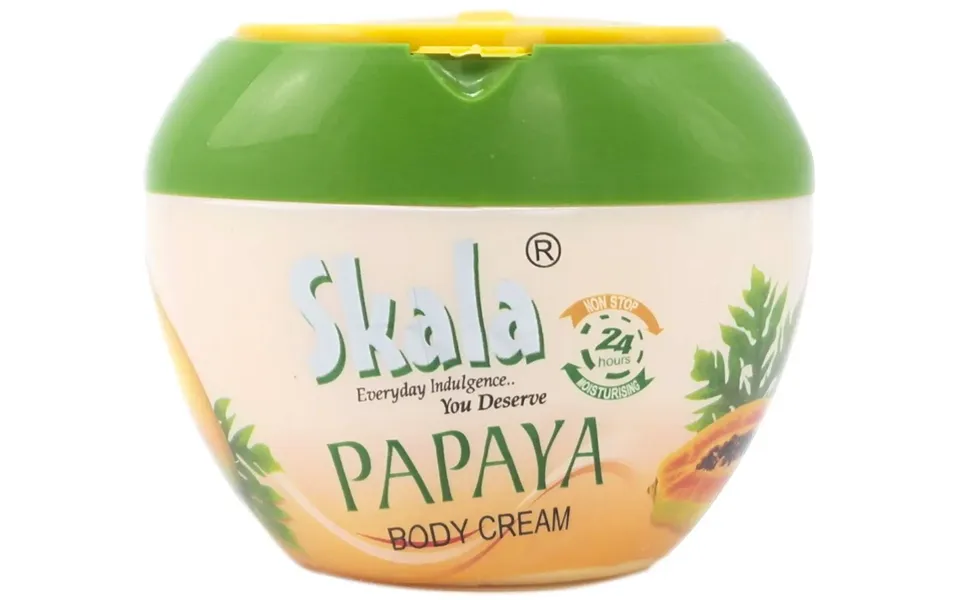 Scale papaya piece cream 200 g
Kr. 79,00
Scale papaya piece cream papaya lightening cream skin creams and lotions runs the whole gamut; with a product for everyone and more being developed day by day.The manufacturing facilities under our organizational command has every kind of equipment including general purpose mixers with in-built homogenizes and Cowles dissolves capable of taking huge batches. We also have at our disposal, bottle and tube packing machines and filling lines for bottles & tubes of various sizes and sachets,creams and body lotions have been developed by well known scientists and prepared only with the finest quality raw materials and are subjected to rigorous and periodic tests to ensure efficacy and safety.
6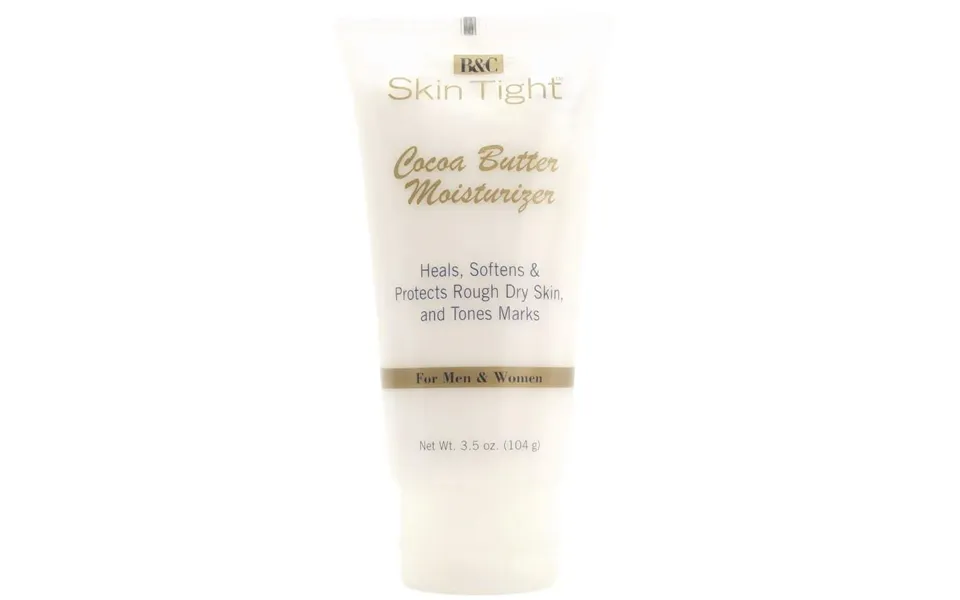 B&c skin tight cocoa moisturizer 104 g
Kr. 69,00
B&c skin tight cocoa  moisturizer contains the finest natural moisturizers for your face and body.These moisturizers soften, smooth and tone the skin giving it a youthful, healthier look.Apply daily for best results. Heals, softens and protects rough, dry skin, Tones marks with the finest natural moisturizers, Gives the skin a youthful and healthier look, Helps to eliminate redness, dark circles and uneven skin tones, For men and women.
7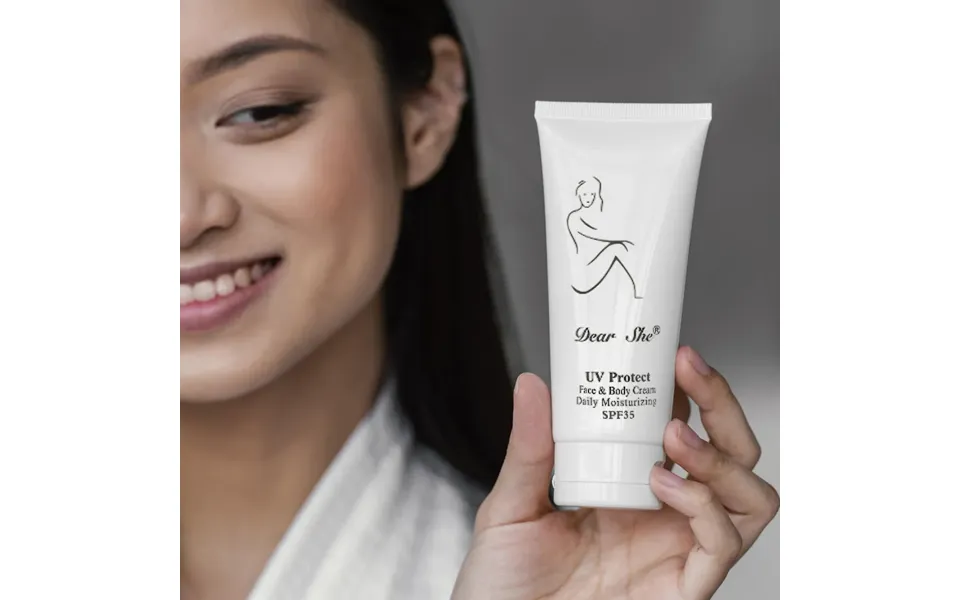 Day cream 100 ml m spf35 uv protection
Kr. 49,00
Day cream 100 ml m spf35 uv protection Dear. She UV Protect Face & Body Cream Daily Moisturizing Real Whitening : Deionized water, emulsifier, monoglyceride Fatty Alcohol, Isooctyl palmitate, Dimethyl cyclosiloxane, Vitamin E Mineral oil, Glycerol glycerin, Propanediol, titanium dioxide, Xanthan gum, preservative, fragrances Direction: srepl step2 tops 1. After clean skin. 2. massage slightly till 3. Dear She whitening apply some of this complete absorption by lotion make oer in whitening lotion on your skin. natural, nighten your face, arms or ishin Red body.
8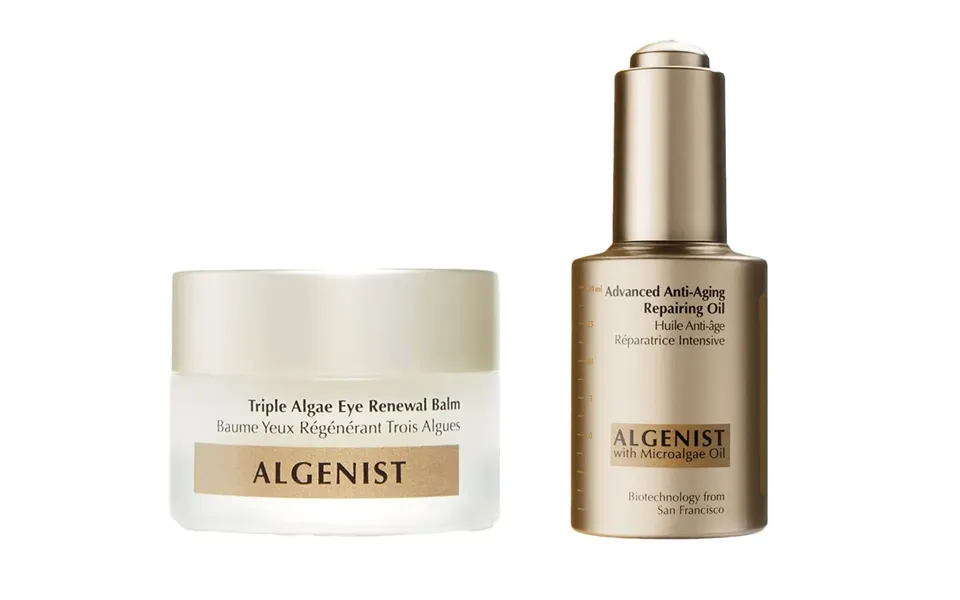 Algenist - triple algae eye renewal balm 15 ml algenist
Kr. 1.090,00
Algenist – triple algae eye renewal balm A multitasking 360° targeted eye treatment that combines powerful triple algae with our proprietary, patented Alguronic Acid to help reduce dark under eye circles, bags, puffiness, lines, wrinkles ,
9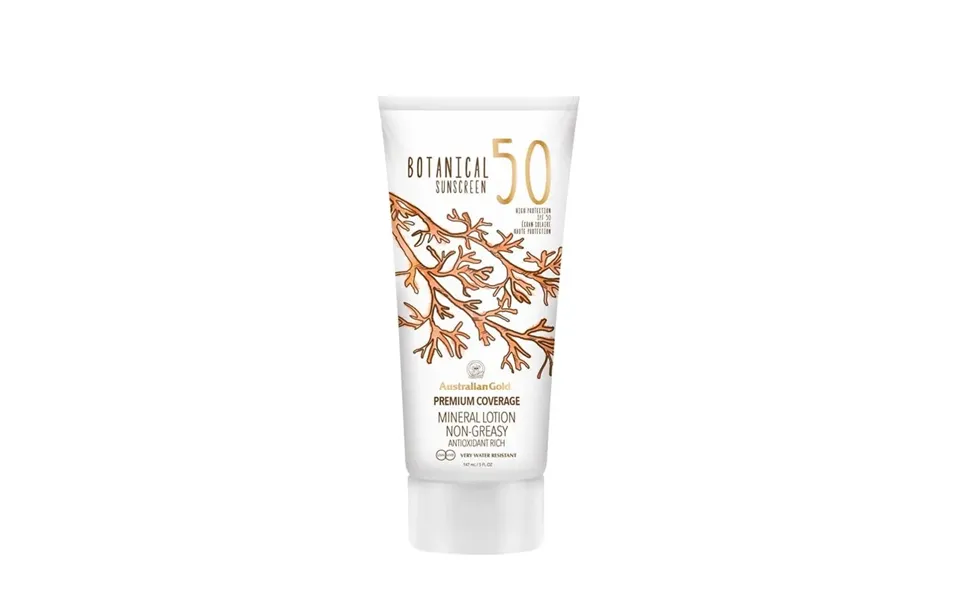 Australian gold botanical sunscreen lotion
Kr. 144,00
Australian gold botanical sunscreen lotion  SPF 50 tinted Face Mineral Lotion is more than just powerful sun protection – it's gentle care for your skin. This non-chemical sunscreen lotion delivers a refreshingly luxurious, powdery-clean feel, while the subtle tint seamlessly blends into Fair to Light skin tones. Specially designed for sensitive facial skin, this BB cream won't clog pores and is fragrance free. Rich in vitamins and antioxidants from native Australian botanical ingredients, it allows you to enjoy the sun protected from both UVA and UVB rays, and water resistant for up to 80 minutes.
10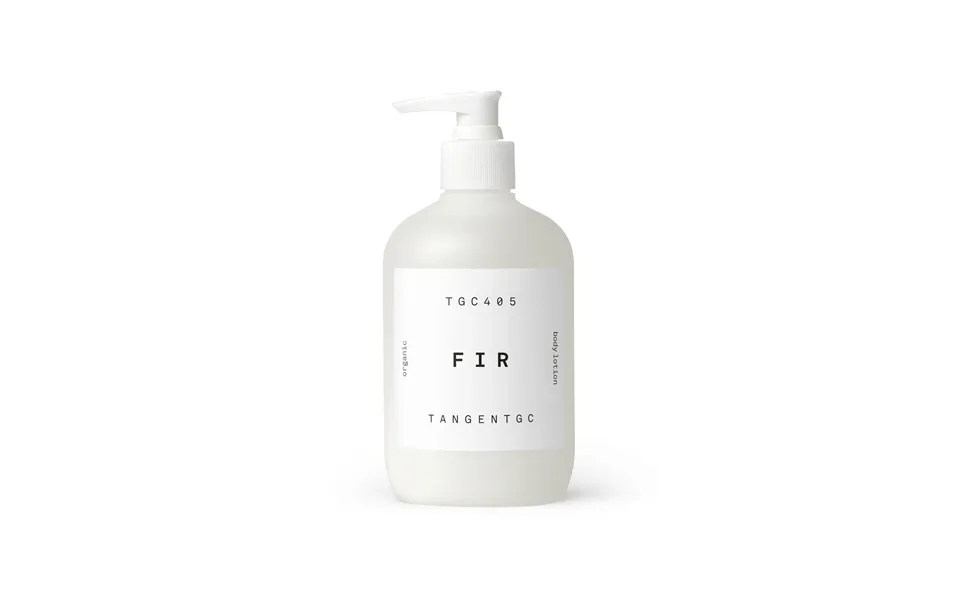 Tangent gc - fir body lotion
Kr. 194,96
Tangent gc – fir body lotion by Tangent GC with a softening, moisturising effect in shea butter and sunflower oil with a wooden scent, a delightful feel and high-quality ingredients perfect for good skin health.