If you're struggling with unmanageable and damaged hair, here are some tips that might help:
Restore moisture:Use a hair mask or deep conditioner to restore moisture to your hair
Use hair smoothing serums: Use hair smoothing serums to tame your hair.
Use a sulphate-free shampoo: Use a sulphate-free shampoo and concentrate on lathering it into your scalp.
Use conditioner and moisturizing products liberally: For keep your hair hydrated.
Oil your hair : It can help keep your hair moisturized
Avoid brushing your hair when it's wet.
Here are 10 budget friendly products recommended for your hair
1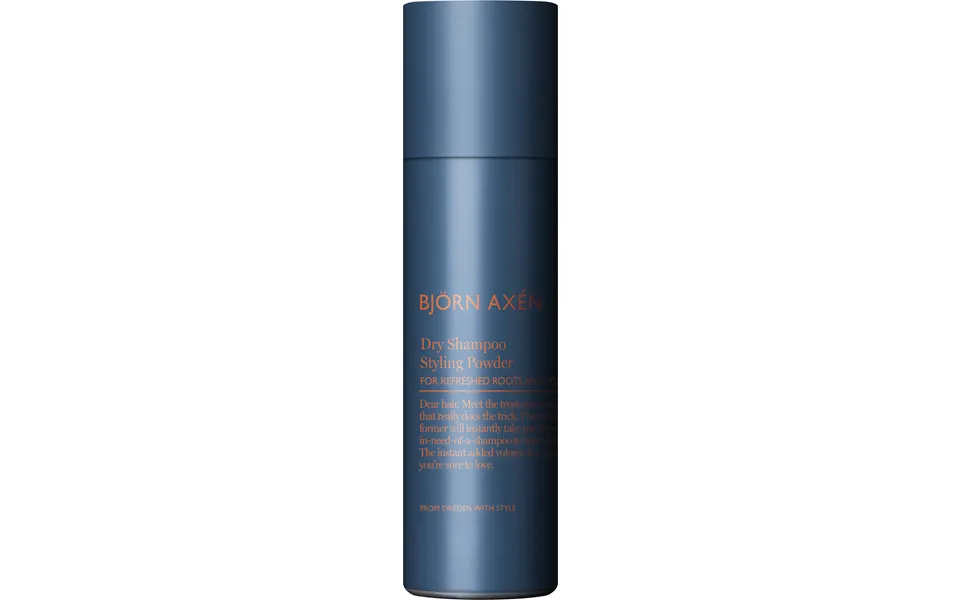 Styling powder dry shampoo
Kr. 140,00
A refreshing dry shampoo that creates volume and structure without leaving a sticky texture. Suitable for all hair types. Leaves hair refreshed and full of extra volume. The product is Vegan.Butane, Isobutane, Alcohol Denat, Propane, Solanum Tuberosum (Potato) Starch, Aluminum Starch Octenylsuccinate, Benzyl Ether Myristate, Hydrated Silica, Parfum.
2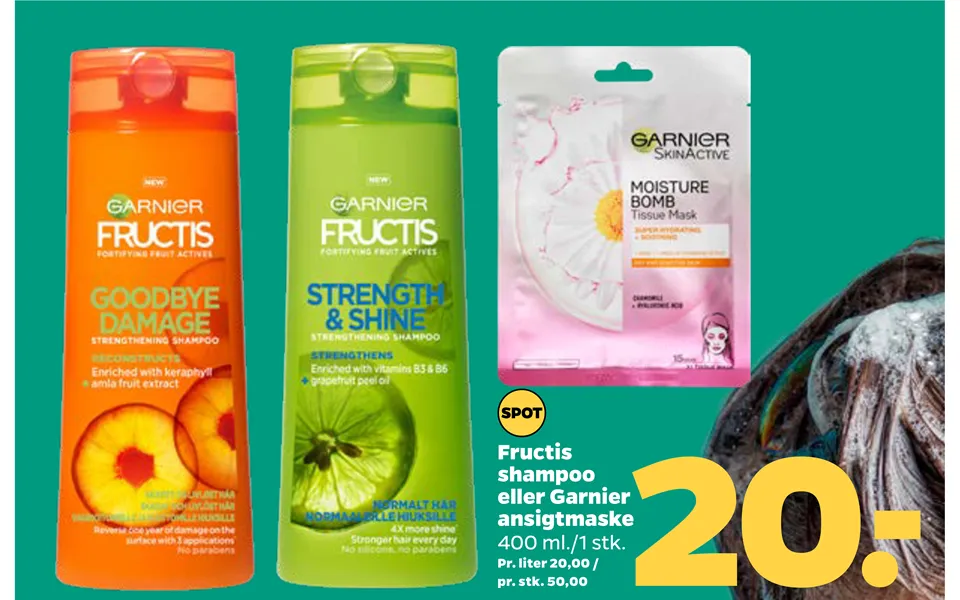 Granier Fructis shampoo
Kr. 20,00
Looking for an effective solution for hair breakage and split ends? Try the Garnier Fructis Long and Strong Shampoo to strengthen the hair roots. Boosted with active fruit,Restore hair shine and strength with the Garnier Fructis Shampoo. The active fruit concentrate like lemon peel extract, fruit vitamins, and nutrients present in this shampoo help increase the hair's moisture level and provide nourishment and strength to the roots and hair fiber. Thus, your hair becomes 5X stronger and can effectively reduce breakage and split ends. So, bring home Fructis Shampoo and say goodbye to hair breakage and split ends.
3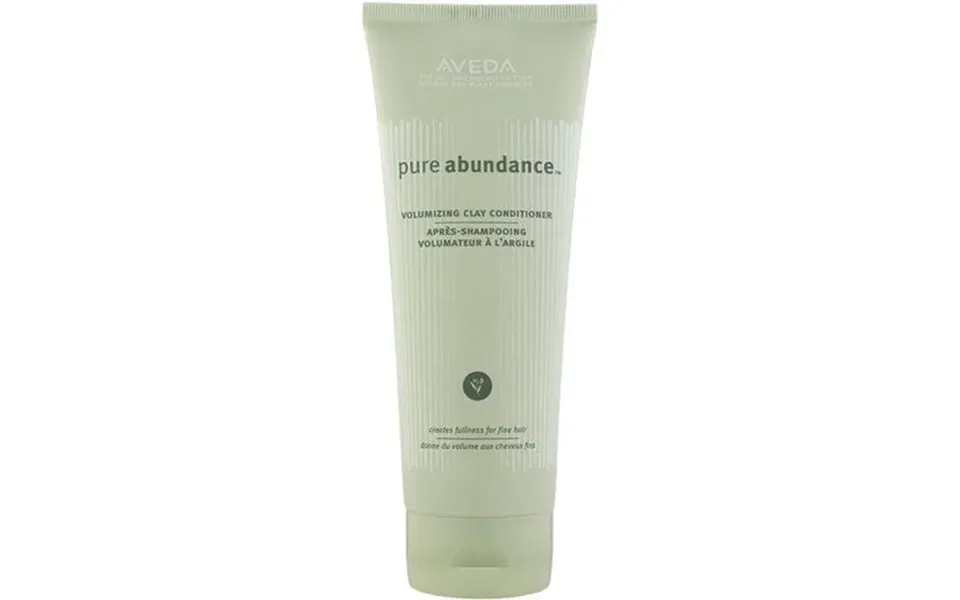 Aveda puree abundance volumizing clay conditioner 200 ml
Kr. 227,00
pure abundance volumizing clay conditioner
Volumizing conditioner creates volume and helps keep fine hair looking and feeling more abundant.
• boosts strands with natural bulking agents like kaolin clay and acacia gum
• use with pure abundance volumizing clay shampoo.While Ancient Hebrews considered Acacia wood to be sacred, the Aztecs used the gum as both a dye and food, eating the seedpods as an aphrodisiac. Acacia gum adds volume to fine hair in Pure Abundance Volumizing Shampoo, Pure Abundance Volumizing Clay Conditioner, and Pure Abundance Volumizing Hair Spray.
4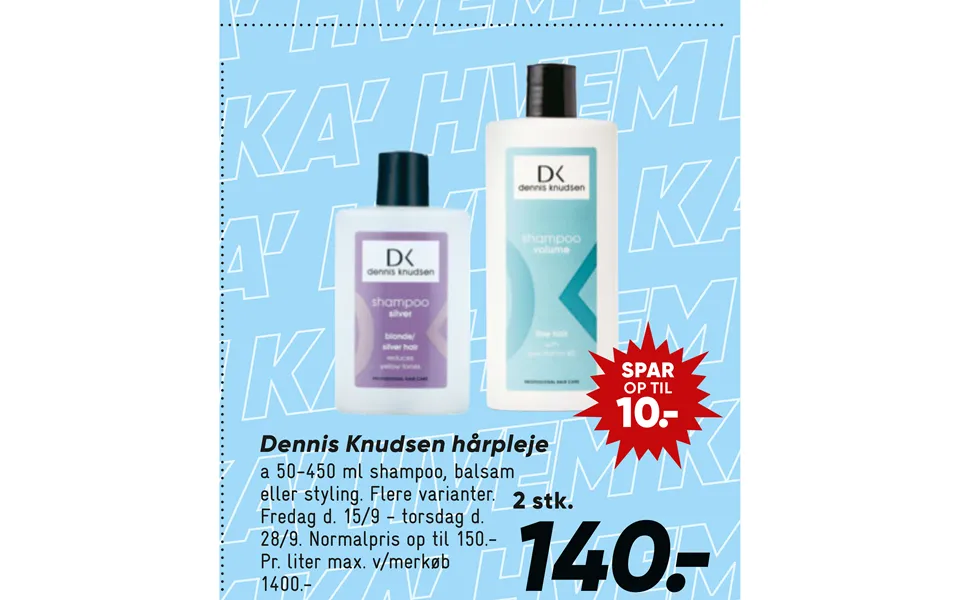 Dennis knudsen hair care
Kr. 140,00
Dennis knudsen hair care the optimal hair treatment for you who want to care for your hair, reduce unwanted yellow shades in the hair and intensify the color in blonde, gray or bleached hair. With its content of violet tones, the yellow tones are neutralized, and your hair gets a fresh and bright look.Effective care of your gray/blonde hair. Contains violet pigments which reduce unwanted yellow and golden shades. A mixture of Argan Oil, Inca Inchi Oil & Shea Butter ensures fantastic nourishment for your hair, which is left well-groomed and silky soft. Distribute an appropriate amount in clean.
5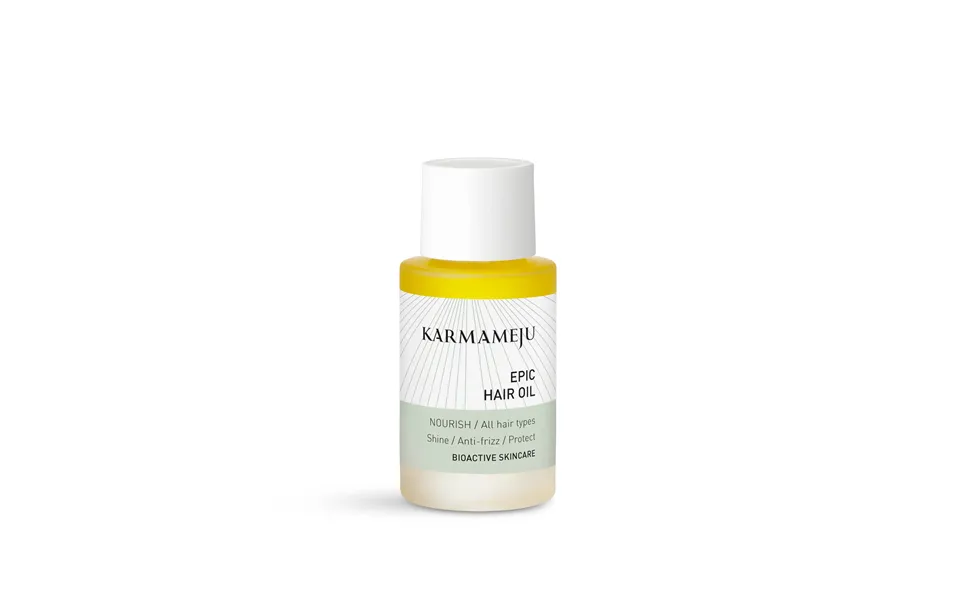 Karmameju - epic hair oil
Kr. 299,00
Karmameju – epic hair oil a natural, silicone-free hair oil with nourishing oils for the hair which soften, protects and adds glossy shine to the hair without weighing it dow ,
hair oil softens, protects and adds glossy shine to the hair, without weighing it down. EPIC is a natural and silicone-free hair oil/ dry oil that helps improve hair elasticity, reduce frizz and smoothe dry, brittle ends, regardless of hair type.
The superior, nutrient blend of several bioactive, organic plant extracts and plant oils is what makes this light-weight, silicone-like hair oil unique: Argan rich in squalene and omegas, sweet Almond oil, Jojoba oil, Olive oil, antioxidant-rich Pomegranate and replenishing Tobacco leaf, Moringa and Sea Fennel bursting with vitamins, which leaves the hair glossy and fortified. 
6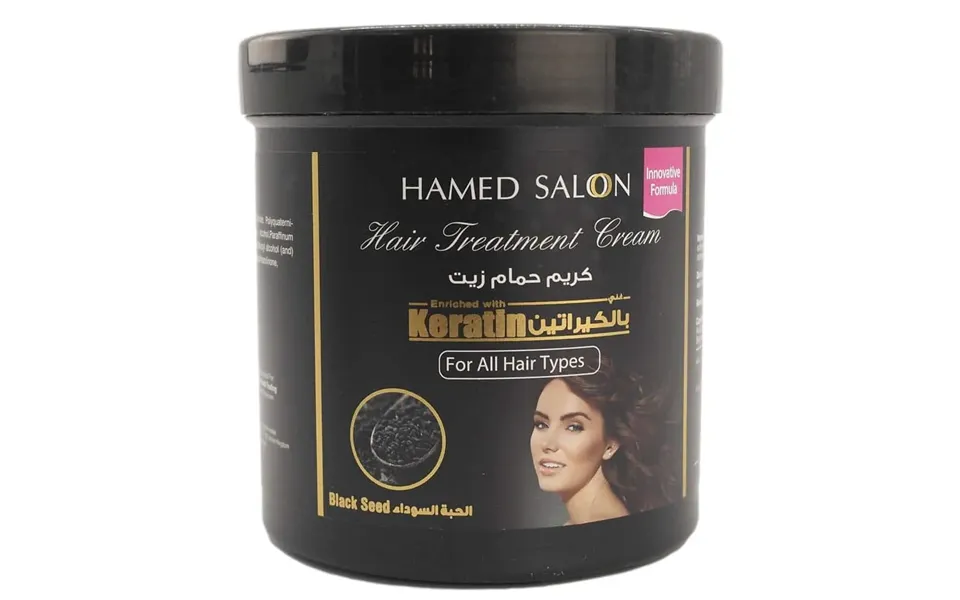 Hamed salon keratin cream 1000ml
Kr. 139,00
Hamed Saloon Keratin Hair Treatment, maintaining the natural moisture hair. Keratin that helps strengthen hair to prevent breakage, heat damage, and frizz. Is vitally important for maintaining strong and healthy hair.Cream includes moisturizing and softening ingredients which restore shine. Keeps hair healthy all day long.
7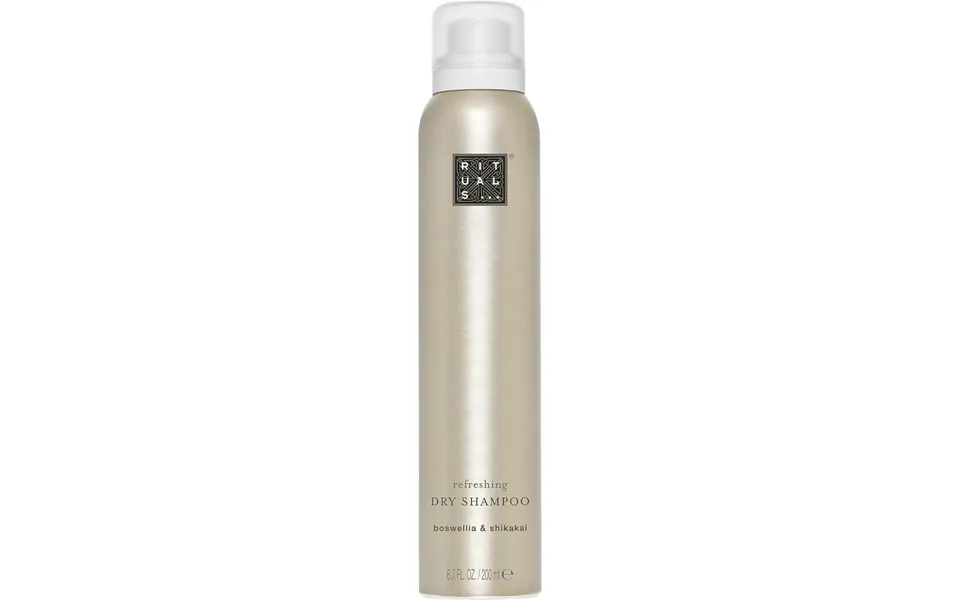 Elixir collection refreshing dry shampoo
Kr. 119,00
Refresh and cleanse your hair in seconds with this dry shampoo. Enriched with boswellia to soothe the scalp and shikakai to nourish your hair, it instantly absorbs and removes oils, sweat and odour. The dry shampoo is suitable for all hair types and along with cleansing, it also adds volume from your roots to the ends.ingredient areButane, Propane, Alcohol Denat., Isobutane, Aluminum Starch Octenylsuccinate, Isopropyl Alcohol, Parfum/Fragrance, Dipropylene Glycol, Aqua/Water, Glycerin, Linalool, Limonene, Hexyl Cinnamal, Boswellia Serrata Gum, Geraniol, Citronellol, Acacia Concinna Fruit Extract, Potassium Sorbate, Sodium Benzoate.
8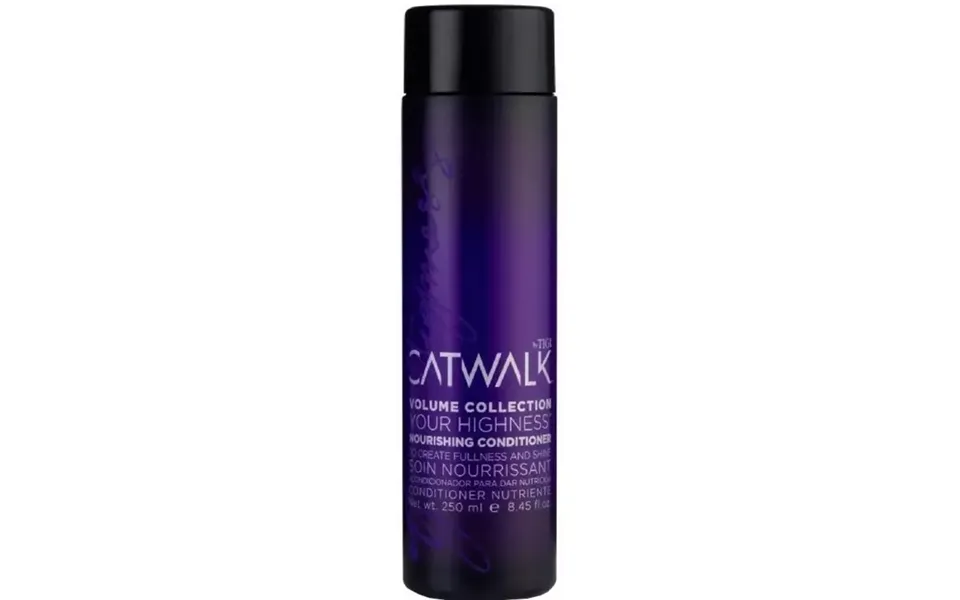 Tigi catwalk your highness nourishing conditioner 250 ml
Kr. 79,00
Tigi catwalk your highness nourishing conditioner Create fullness and shine with tigi Catwalk Your Highness Nourishing Conditioner, your hair will be left soft, full of body and delicious to the touch; the perfect canvas to achieve remarkable volume.tigi Catwalk Your Highness Nourishing Conditioner will increase your hair's volume while also gently soothing and moisturising. Lavender, wisteria, jasmine and violet hug each strand of hair with weightless nourishment and shine while the cashmere, vanilla and sandalwood fragrance leaves your hair smelling amazing too! Without weighing it down, your hair will be left fuller and thicker than ever before.
9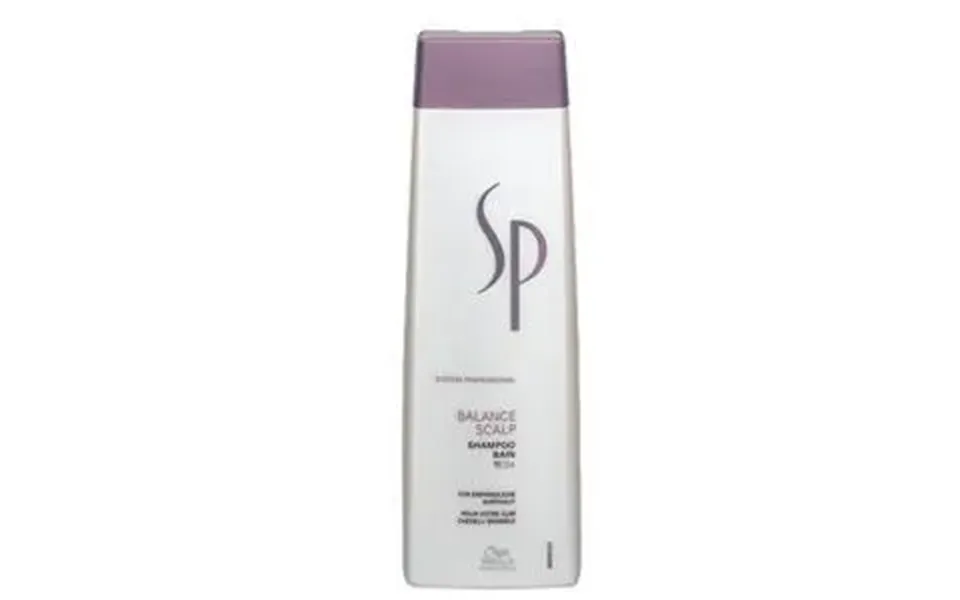 Wella sp balance scalp shampoo - 250 ml
Kr. 99,00
Soothes and conditions sensitive scalp
Builds a protective barrier from irritation
Formulated with skin friendly pH value
Relieves hair from itching, burning and other subjective reactions
Controls hair fall

Gently cares for sensitive scalps with

a skin friendly pH value. Prepares the scalp for hair-loss treatments. Work evenly into damp hair. Do the Shampoo Massage. Rinse thoroughly.

When it comes to hair, each of us has a very personal beauty ideal. That is why we at SYSTEM PROFESSIONAL developed an individualized approach to hair care. Only by understanding your specific needs can we ensure your stylist has the very best hair to work with, as you begin the journey to your beauty ideal.
10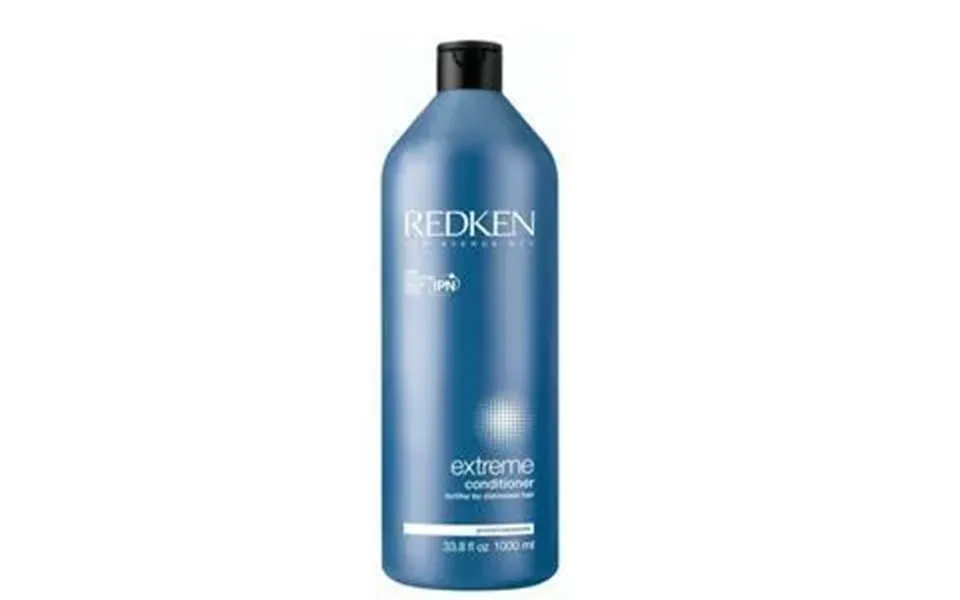 Redken extreme conditioner - 1000 ml
Kr. 349,00
Redken Extreme Conditioner strengthens damaged hair, leaving it healthier-feeling and resilient. This fortifying deep conditioner on dry, damaged hair treats the root, core and tip of the hair through the proprietary Strength Complex. Formulated with Citric Acid, Amino Acids and Arginine, hair will be strengthened and fortified while returning hair to its healthiest pH. For superior results, use after Extreme shampoo.
• Detangles hair while preventing breakage
• Seals the cuticle for a stronger finish
• Helps fortify weakened hair areas – root-to-tip
• Leaves hair shiny and stronger