With Halloween just around the corner, it's time to start thinking about the perfect gifts for the Halloween lover in your life. Whether they enjoy the spooky atmosphere, the thrill of dressing up, or the sweet treats that come with the holiday, there's a gift out there that will make their Halloween even more special. In this article, we will explore a range of gift ideas that are sure to bring a smile to any Halloween enthusiast's face.
1. Trick or Treat Sweets: Indulge Their Sweet Tooth
For the Halloween lover who can't resist a sugary treat, why not surprise them with a delicious assortment of Halloween-themed candies, From classic favorites like candy corn and chocolate pumpkins to ghoulishly delightful novelty treats, there's a wide array of options to choose from. Consider putting together a spooky gift basket with an assortment of candies and chocolates that will satisfy their sweet tooth.
2. Creepy-Cool Costumes: Help Them Dress to Impress
One of the most exciting parts of Halloween for many enthusiasts is dressing up in a creative and eye-catching costume. Help your Halloween lover make a statement by gifting them a unique costume or accessories that will make heads turn. From classic characters to contemporary pop culture icons, there are endless options to choose from. Consider their preferences and find the perfect costume that will make their Halloween unforgettable.
3. Home Haunting Essentials: Create a Spooky Atmosphere
If the Halloween lover in your life enjoys transforming their home into a haunted haven, surprise them with gifts that will enhance their spooky decorations. Decorative items like eerie candle holders, spooky wall art, and hauntingly beautiful lights can set the perfect atmosphere for a Halloween celebration. Consider gifting them a set of string lights in the shape of ghosts or pumpkins to add an extra touch of holiday spirit to their home.
4. Hair-Raising Books and Movies: Fuel Their Imagination
For Halloween enthusiasts who love a good scare, a spine-chilling book or a thrilling horror movie can make for an excellent gift. Look for the latest releases in the horror genre or choose a classic supernatural novel that will keep them on the edge of their seat. You can also explore the world of horror-themed board games or puzzle books that will challenge their mind while providing entertainment.
5. DIY Halloween Kits: Unleash Their Creativity
For those who enjoy getting their hands dirty and creating their own Halloween magic, DIY kits can be the perfect gift. From pumpkin carving kits to DIY costume-making sets, there are plenty of options available to nurture their creative side. Consider gifting them a kit that includes all the materials they need to create their own spooky decorations or a unique Halloween-themed craft project.
Finding the right gift for a Halloween lover doesn't have to be a scary task. With these gift ideas in mind, you can surprise and delight the Halloween enthusiast in your life. Whether it's indulging their sweet tooth, helping them dress up in style, creating a spooky atmosphere at home, fueling their imagination with thrilling books and movies, or unleashing their creativity with DIY kits, there's a gift out there that will make this Halloween truly unforgettable. Get ready to make their holiday extra special with a gift that speaks to their love for all things Halloween
Following are the best 10 gifs for halloween lover
1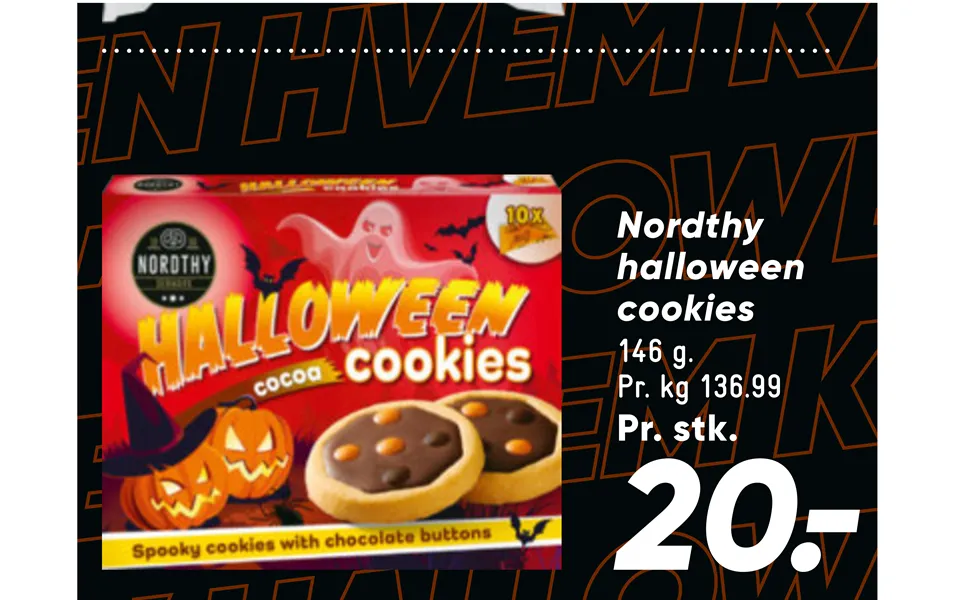 Nordthy halloween cookies
Kr. 20,00
Nordthy halloween cookies frighteningly good biscuits with chocolate buttons and white cream and cocoa,Contents:12 pcs. single pack. Weight: 146g (10 x 14.6g). Only sold in our physical stores.
2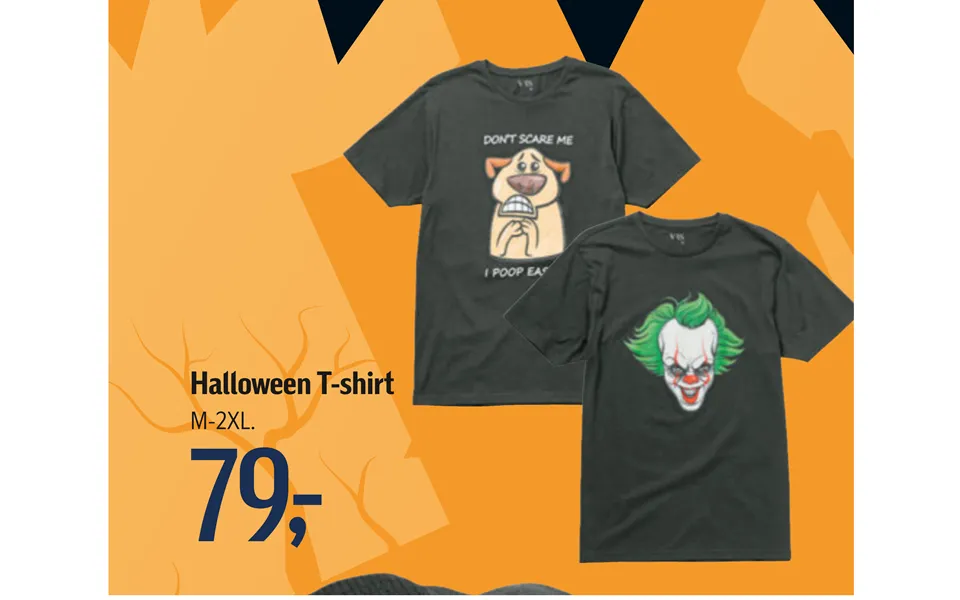 Halloween t-shirt
Kr. 79,00
Halloween t-shirt 100%Milky Way t-shirts Branded Ultra-Soft t-shirt. Happy Halloween t-shirt Halloween is classic, happy halloween shirt.
3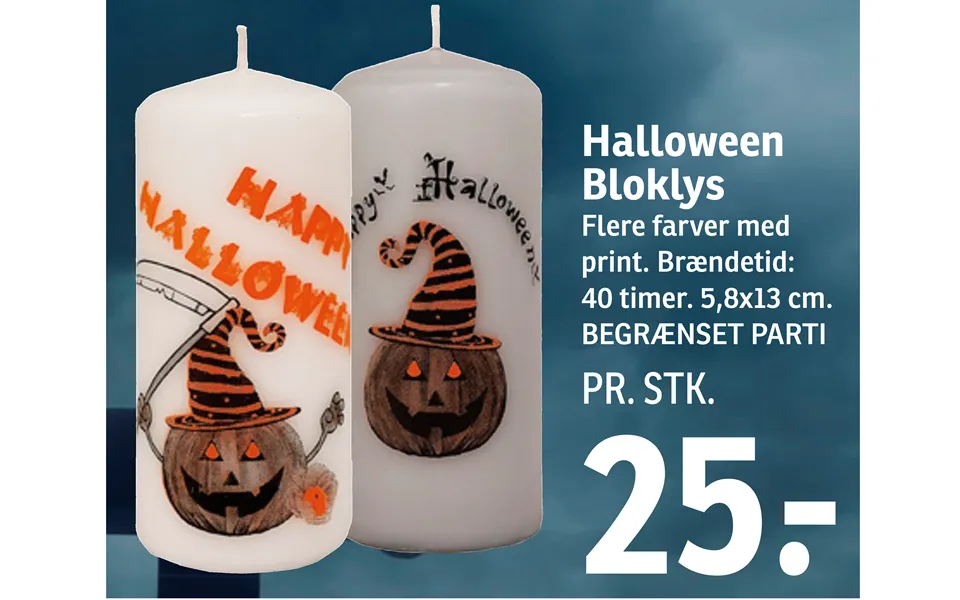 Halloween candles
Kr. 25,00
Halloween candles decorative Halloween Candles vintage halloween decoration indoor fall decoration halloween party, horror candle is perfect for any style of decor and emits a special, vibrant, warm tone when lit. The coconut soy wax is a vegan blend, gluten-free, toxin-free, paraben-free, and phthalate-free, and comes from renewable sources.
4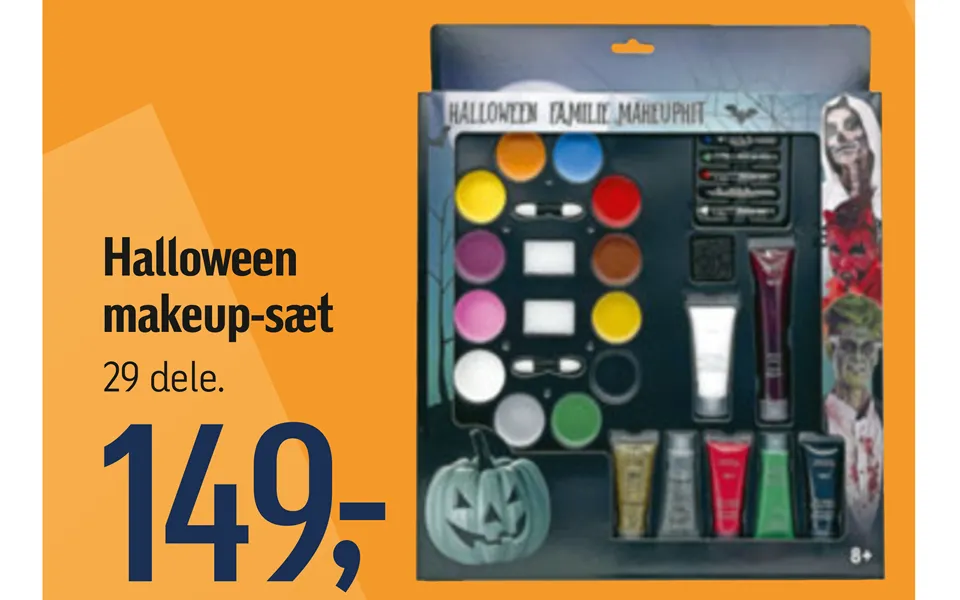 Halloween
Kr. 149,00
Halloween makeup kit unique design & easy to use, use face makeup kit to create the perfect look to go with your Halloween costume. Have fun with your families and friends for Halloween makeup.
5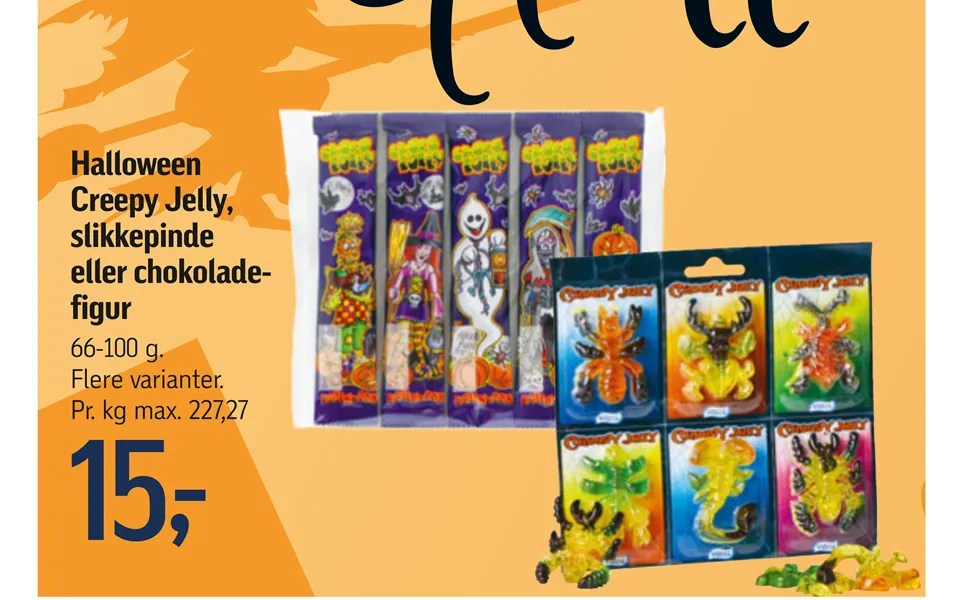 Halloween creepy jelly, lollipops or chokoladefigur
Kr. 15,00
Halloween creepy jelly, lollipops or chokoladefigur this creepy yet delicious skull lollipop with a rotten jelly eye makes a gruesome yet delicious treat for your Halloween-themed party! Perfect for popping into your favour bags, decorating your lolly buffet table or handing out to spooky trick-or-treaters to add to their freaky sweet stash.
6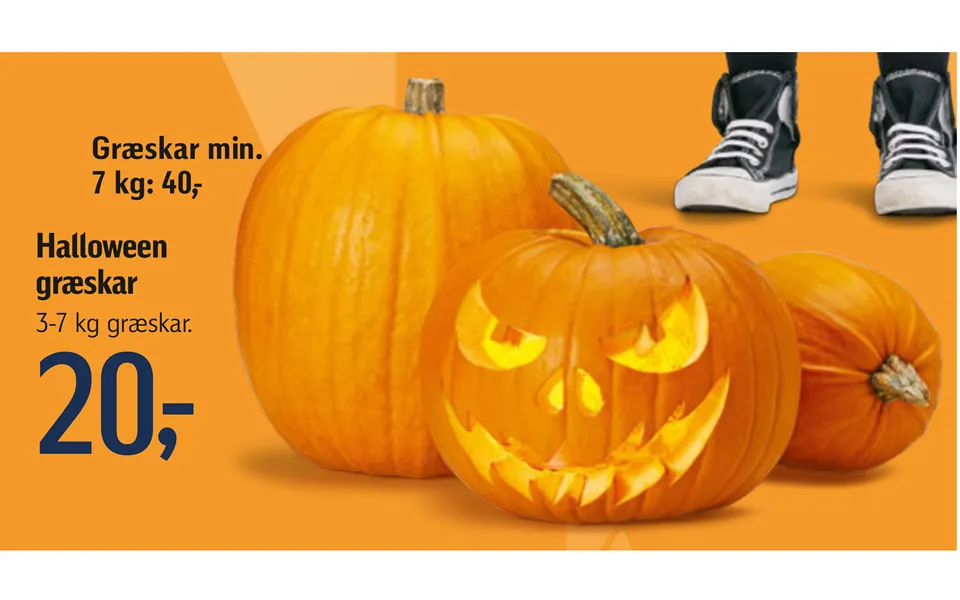 Halloween pumpkin
Kr. 20,00
Halloween pumpkin  is the classic pumpkin for Halloween, right size and shape for cutting.This is a mid late variety with good foliage and luxurious plant of good productivity. The medium sized fruits have a smooth orange skin, slightly scalopped. The flesh is orange. This variety preserve really well.
7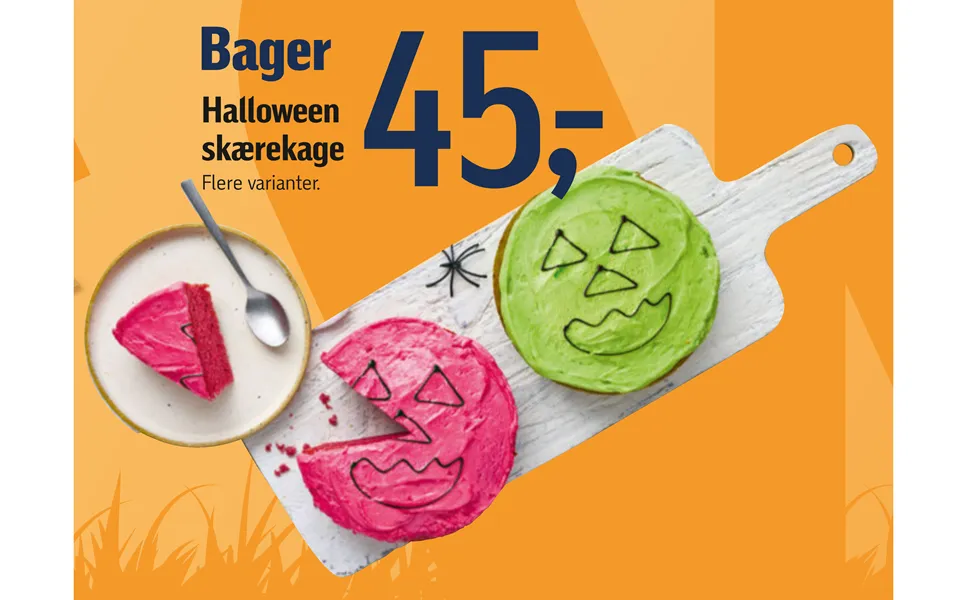 Halloween flan
Kr. 45,00
Halloween flan  is a dessert consisting of a custard base with a layer of pumpkin puree on top. It is typically served with a caramel sauce. The custard base is made with eggs, milk, and sugar. The pumpkin puree is made with pumpkin, cream, and spices. Pumpkin flan is a popular dessert in many parts of the world. It is a popular choice for Halloween party.
8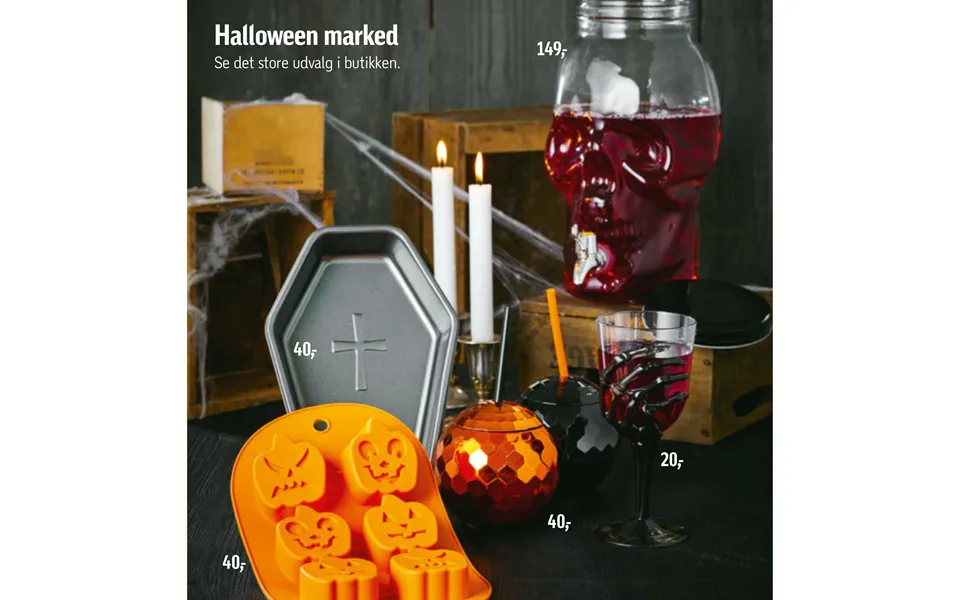 Halloween market
Kr. 149,00
Halloween market that allows you to mould and bake perfect halloween themed cookies,Adopting Halloween decoration shape design, this mold can add Halloween feelings and make your DIY cookie looks more attractive.Using Halloween decoration shape design, this mould make your DIY cookie looks more attractive and can add Halloween atmospheres.
9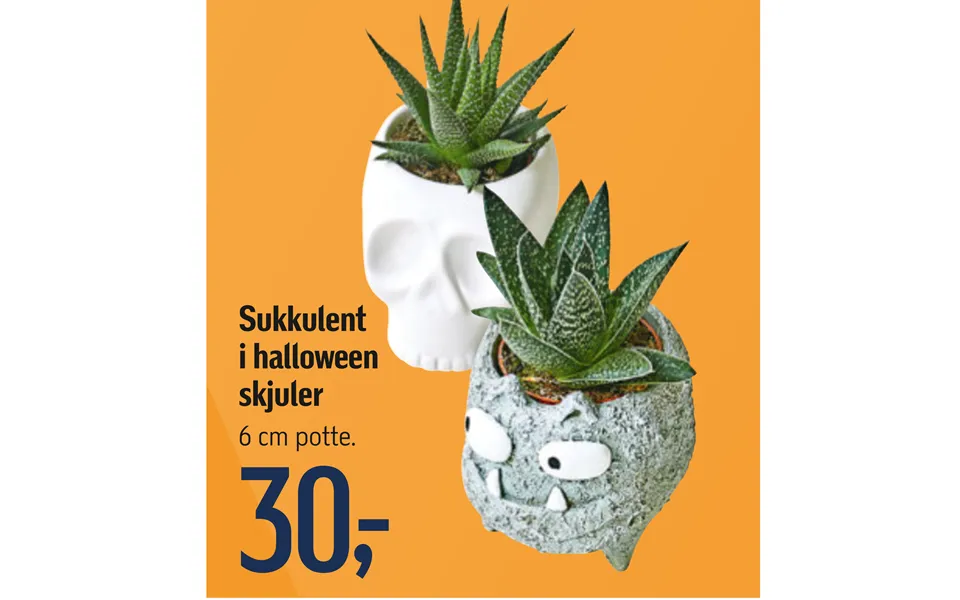 Succulent in halloween hides
Kr. 30,00
Succulent in halloween hides  are lovely succulents that are both low maintenance and gorgeous. Their beautiful rosette-like patterns, wide range of colors, and stunning flowers make them one of the most beloved succulents out there – perfect for any green space.
10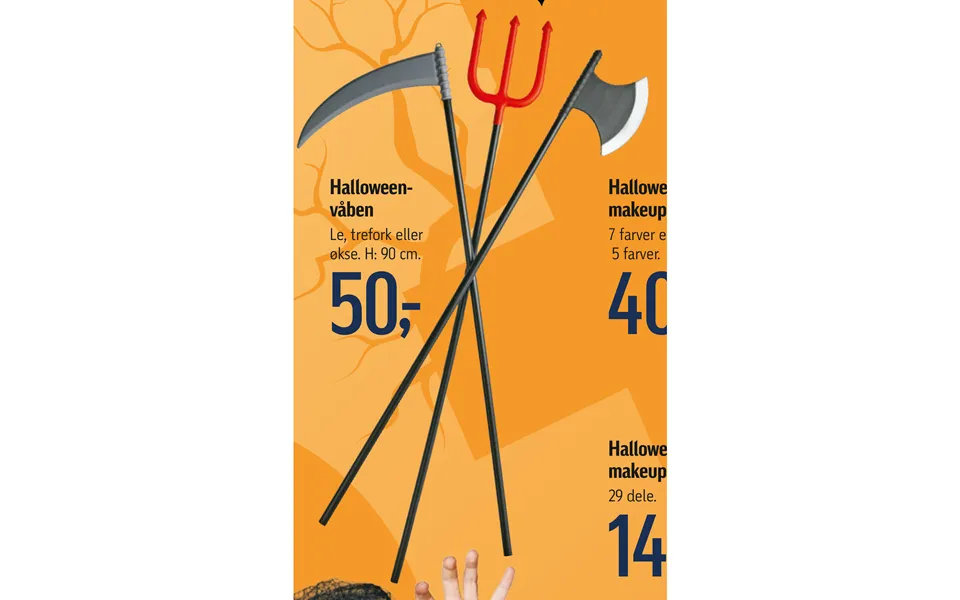 Halloweenvåben
Kr. 50,00
Halloweenvåben now you can finally complete your diabolical costume! With this trident you will become the mightiest creature for this year's Halloween.we experience the veil between the world of the living and the dead being broken. It is therefore the perfect time to don devilish costumes! The Devil Costumes make you the ruler of all the creatures that come out for Halloween. You will become the mightiest and most terrifying of them all.