Halloween is just around the corner, and if you're looking for the perfect gift to surprise and delight the teenage trick-or-treater in your life, you've come to the right place. We've scoured the crypts and haunted houses to bring you a curated list of  Halloween gift ideas that are sure to bewitch even the most discerning teenager. Whether they're into creepy costumes, gory gadgets, or hauntingly cool accessories, these gifts are guaranteed to make this Halloween the most memorable one yet.
1. Creepy Costume Kit – Transform Their Nightmares
Help your teenage friend unleash their inner monster with a creepy costume kit. From zombies to vampires and everything in between, this kit includes all the essentials for a spine-chilling transformation. With high-quality makeup, prosthetics, and accessories, they'll be the talk of the town at any Halloween party.
2. Ghostly Glow Gear – Illuminate the Darkness
Give the gift of ghostly glow gear and let them light up the night. From glow-in-the-dark apparel to LED accessories, these items will make your teenager stand out in the dark. They'll have a blast creating an eerie aura and be the envy of all the other ghouls and ghosts haunting the streets.
3. Haunted Mystery Box – Thrills and Chills Await
If your teenager loves surprises, a haunted mystery box is the perfect choice. Packed with spooky surprises and mysterious treats, this gift will keep them guessing until Halloween night. Each box is carefully curated to include a combination of terrifying trinkets, spine-tingling treats, and bone-chilling surprises.
4. Sinister Snack Pack – Treats That Trick
Trick or treating might be synonymous with Halloween, but why not take it up a notch? Surprise your teenage friend with a sinister snack pack filled with creepy confectioneries and chilling candies. From gummy eyeballs to vampire fangs, this pack is a delectable treat that will satisfy their sweet tooth and give them a frightfully good time.
5. Eerie Escape Room Experience – Test Their Wits
For the thrill-seeking teenager, an eerie escape room experience is just the ticket. Challenge their problem-solving skills as they navigate through a spine-chilling, puzzle-filled adventure. Whether they're solving mysteries in a haunted mansion or escaping a zombie apocalypse, this gift promises an unforgettable Halloween experience.
Here are best 10 halloween gifts for teenage
1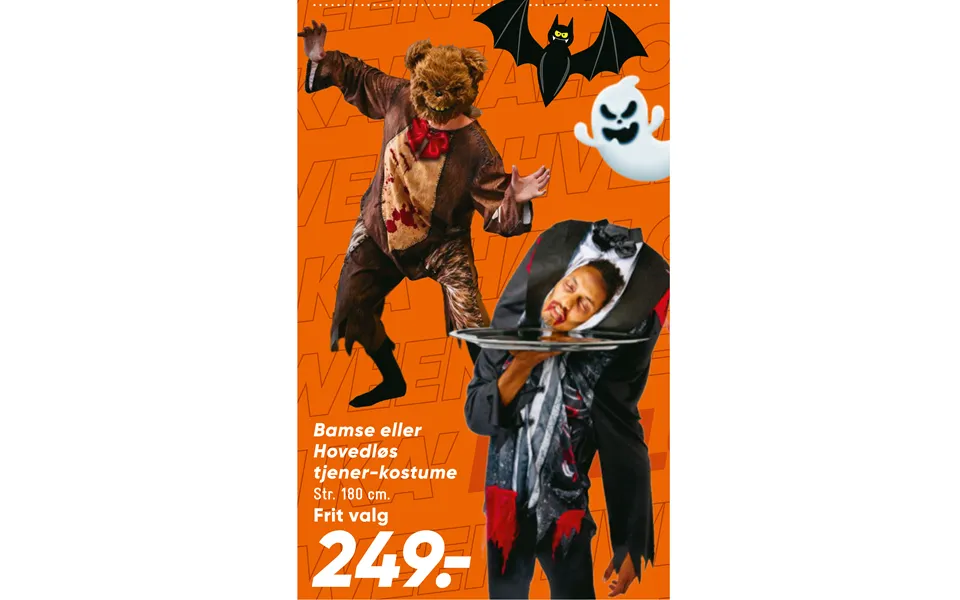 Teddy bear or headless serving costume
Kr. 249,00
Teddy bear or headless serving costume pack Halloween dress up for theme parties, Zombie role playing, wicked dress, haunted house, photoshoot, school play, society functions, Strachey goth party, Adman Family, Spirit Halloween, Halloween Pumpkin, Devil, The witch, Scary Halloween Costumes,Scary Dresses for teenage boys & kids Waling dead, Night fairies, Souls of dead spirits, Vintage Swamp Thing. Ghost busters, Ghost adventures, Ghost Baby, Devil Baby, California Horror Theme Decoration, Scary Witch Costumes.
2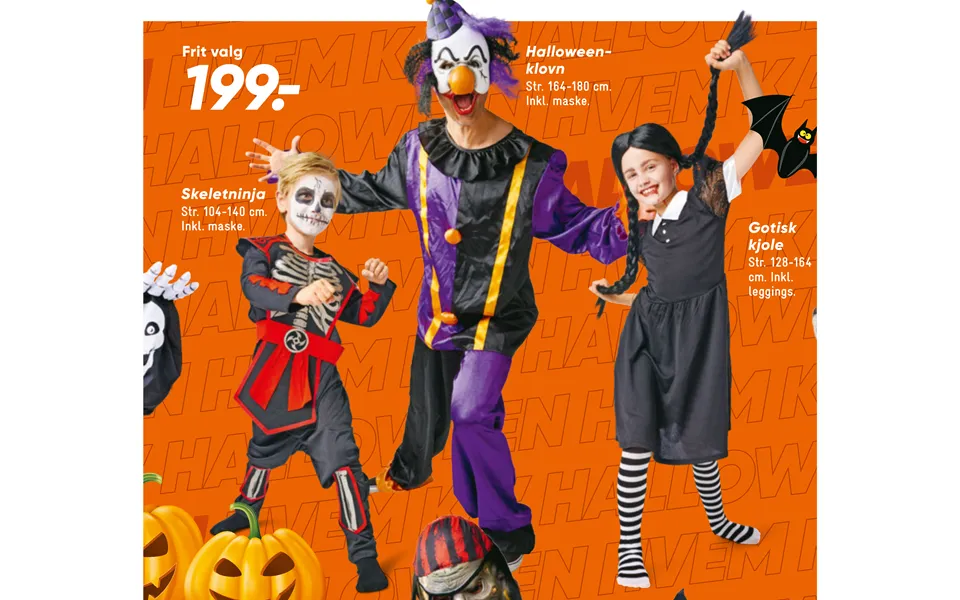 Halloweenklovn skeletninja gothic dress
Kr. 199,00
Halloweenklovn skeletninja gothic dress occasions the halloween dress for is perfect for stage show, themed party, cosplay, photography, haunted house, Halloween, fancy dress, Masquerade ball, stage performance, school play, halloween, celebration, and any even you like.
3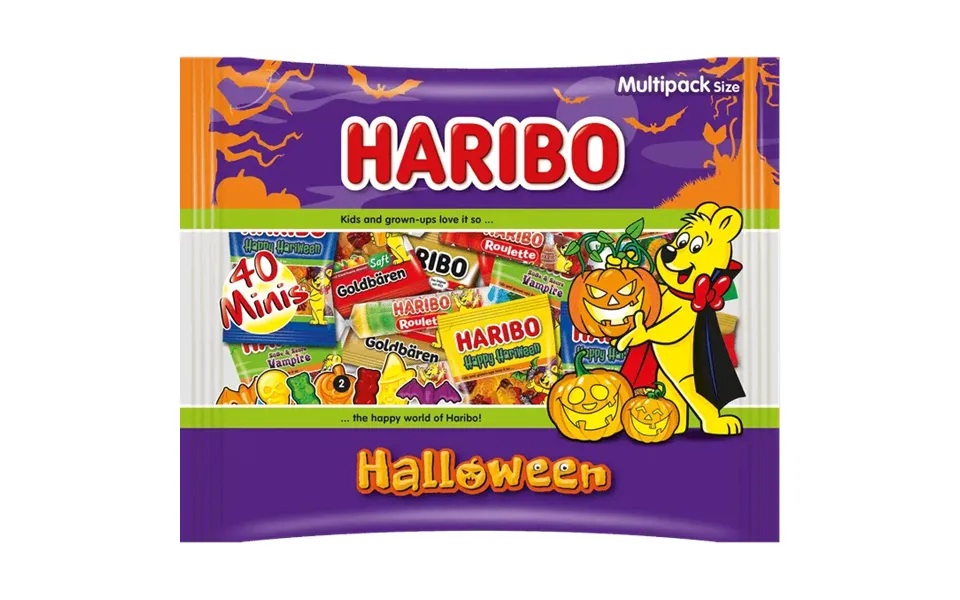 Haribo halloween mix
Kr. 79,00
Haribo halloween mix Haribo trick or Treat offers a spooktacular selection for any wizards or witches that come a-calling this Halloween. Containing a magical mix, you'll find bat, broomstick, frog and spider shaped pieces. These gums and jellies are perfectly petrifying.
4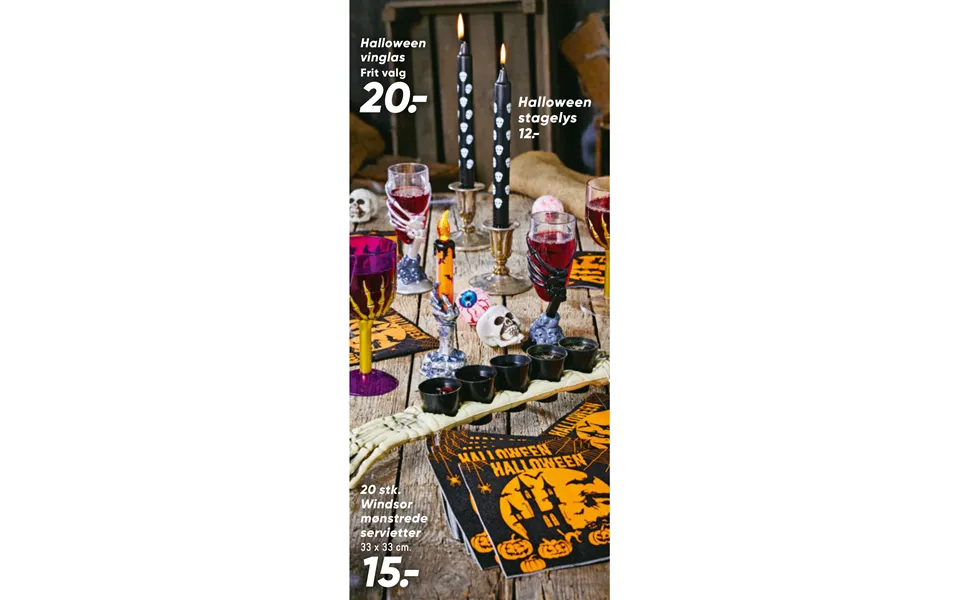 Halloween wineglass windsor patterned napkins
Kr. 20,00
Halloween wineglass windsor patterned napkins  made with thick, durable paper; ideal for cocktails, appetizers, and cake ,filled with ghosts, bats, potions, and all things Halloween these Halloween napkins! The combination of orange, white and pink, with a swirling checkered pattern, They're perfect for parties for all ages, and will mix and match with other Halloween tableware.
5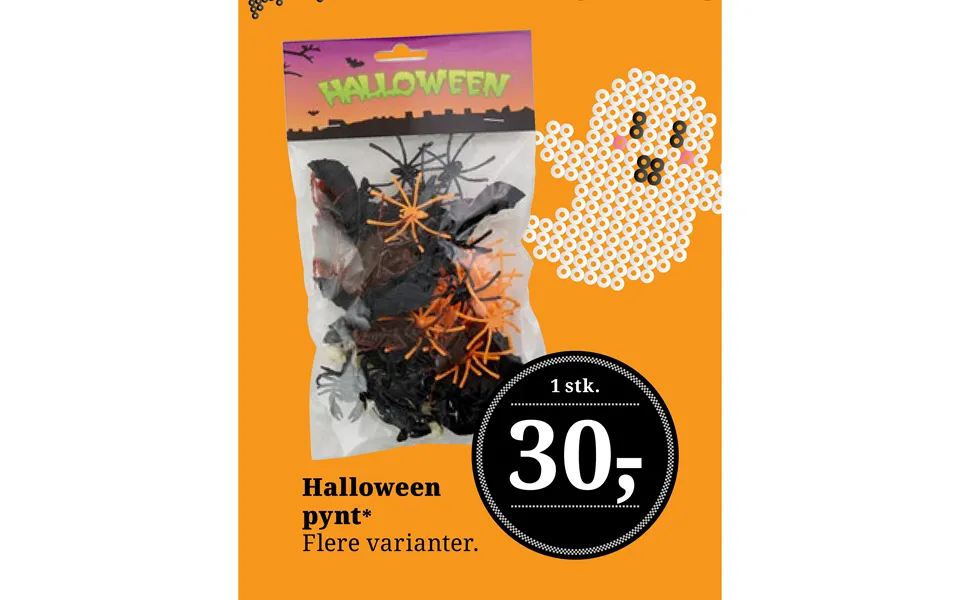 Halloween
Kr. 30,00
Halloween Pynt ready for the Halloween party with decorations for the house, garden and front door. Below you will find the entire selection of fun, exciting and terrifying Halloween decorations to give guests and passers-by a spooky welcome.
6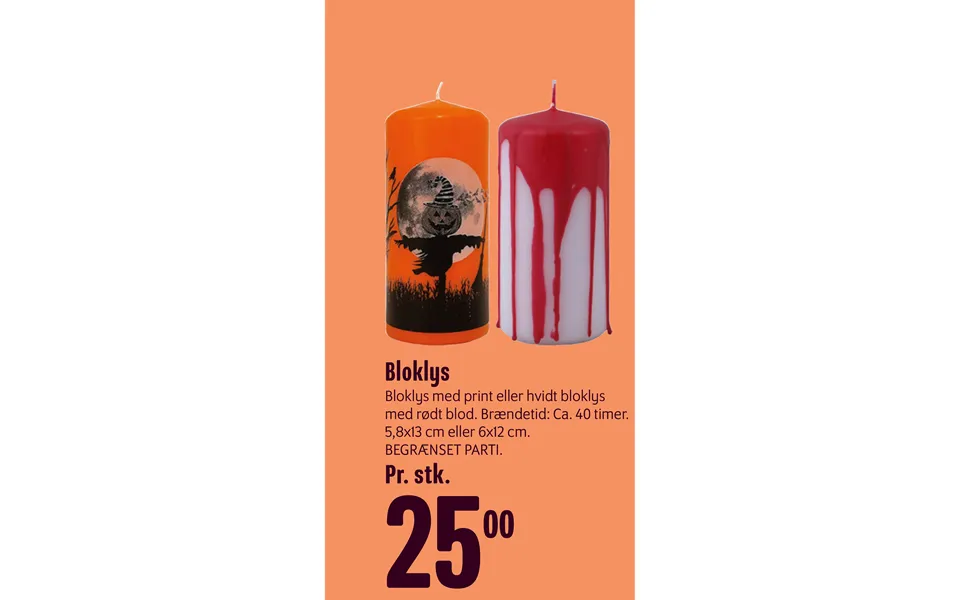 Candles
Kr. 25,00
Candles for halloween there is nothing that creates atmosphere in everyday life like candles. Candles are almost the epitome of coziness; in the summer we use them to prolong the balmy summer evenings, while in the long dark winter evenings they (literally) provide the light in the darkness most of us long for.
7
Gift bag with plants in vase past, the laws hides
Kr. 99,00
Gift bag with plants in vase past, the laws hides plant pot box, planter pots, plant bag, basket plant pot, bohemian basket, organizer basket, flower pot, yarn storage, closet basket for halloween.
8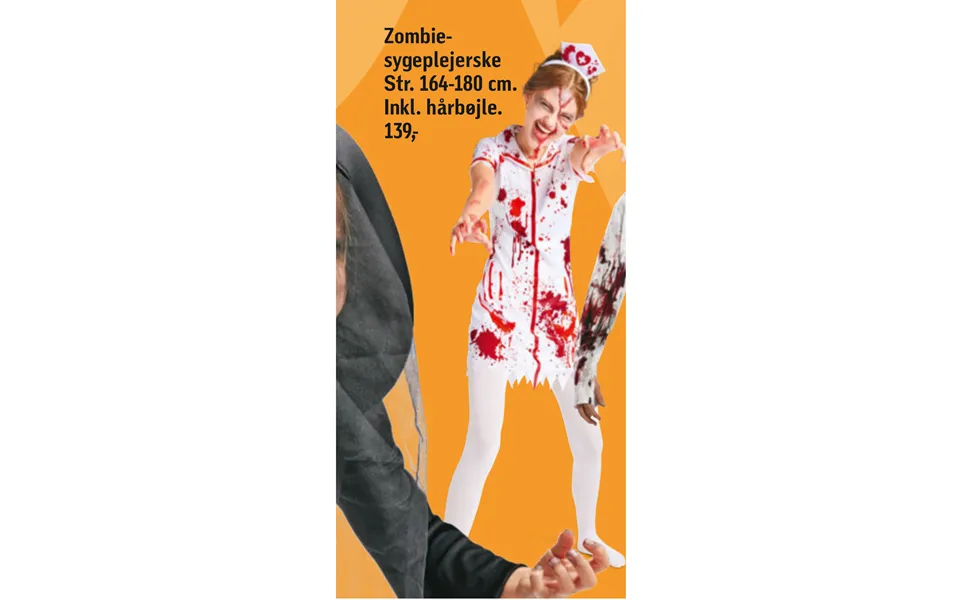 Zombiesygeplejerske
Kr. 139,00
Zombiesygeplejerske In the midst of a zombie epidemic, all people will flock to the hospital for help. Get ready to take them on and eat their brains
You will receive a dress in white with red details and bloodstains, a pair of fingerless gloves and a nurse's hat in a matching design.
9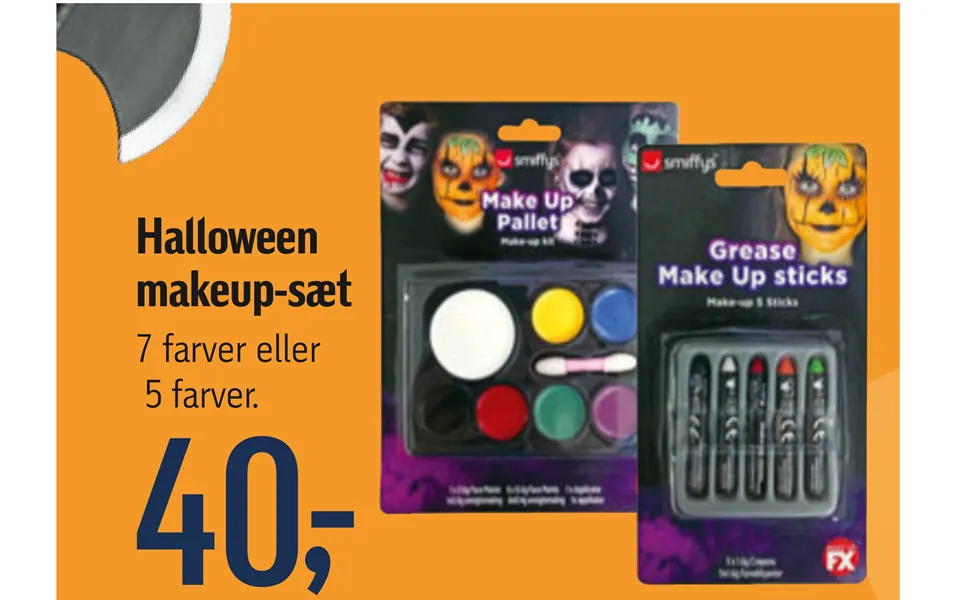 Halloween
Kr. 40,00
Halloween makeup kit unique Design & Easy To Use. Use our face makeup kit to create the perfect look to go with your Halloween costume. Have fun with your families and friends for Halloween makeup, zombie makeup kits, zombie costume, scar makeup, Halloween blood makeup, vampire makeup, wound makeup.
10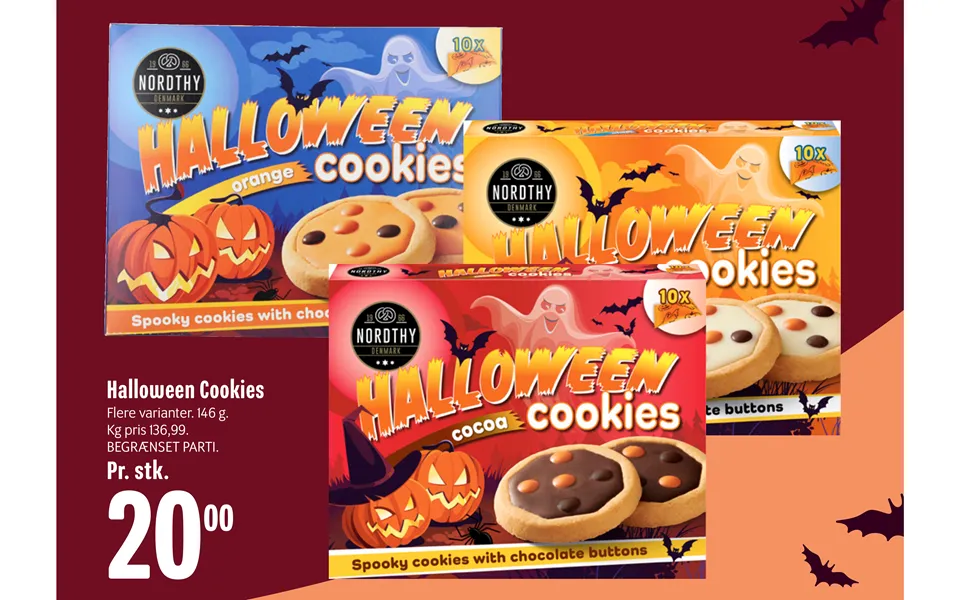 Halloween cookies
Kr. 20,00
Halloween cookies with cream,10 pcs. single pack,God til trick or treat,Frighteningly good biscuits with chocolate buttons and orange cream. Contents: 10 pcs. single pack. Weight: 146g (10 x 14.6g). Only sold in our physical stores,cookies with white cream are good biscuits with chocolate buttons and white cream.